Aurora Award Nomination- 2014
I've been nominated for an Aurora Award ( Best Artist) : http://www.prixaurorawards.ca/aurora-awards/nominee-bios/
Awards Ceremony will be held in October 2014
Vancouver Sun Article about my children's book Bellybuttonless – 2014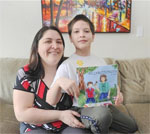 Mother finds unique way to share her cancer story with others.
TV Interview, Gente con Estilo – 2006
Please note that the interview is in Spanish- it was taped while Apis was Visiting Colombia, and aired in the National channel RCN on Friday January 13th, 2006.
It was filmed for a show called Estilo RCN, for the segment "Gente con Estilo" (People with Style).
Jewish Independent Article
Living in Fantasyland: Graphic artist Apis Teicher is finding success.
DAVE GORDON (Jewish Independent, 2008)

*Please note story referenced "Benny Comes Home" was created by the amazing Esther Friesner http://www.sff.net/people/e.friesner/
Afterword Article:
Comics Aren't For Kids Anymore: Unconventional Artist In Demand by Alex Karr ( Afterword, 2006)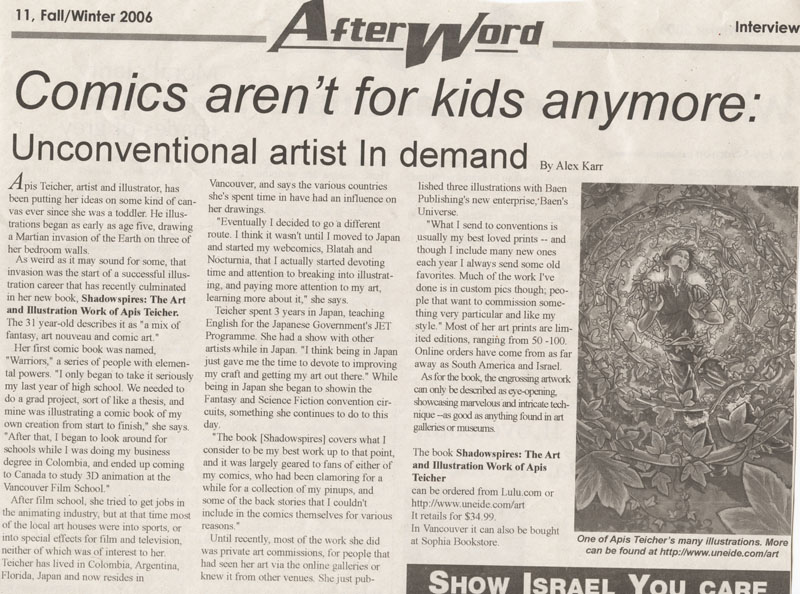 NABARI Exhibition April 2004